SINGLE BED MATTRESS PROTECTOR SOFT VINYL WIPE CLEAN SHEET COVER PROTECTOR HLU
£2.25
SINGLE BED MATTRESS PROTECTOR SOFT VINYL WIPE CLEAN SHEET COVER PROTECTOR HLU
MATTRESS PROTECTOR WATERPROOF COVER FOR SINGLE BED – FITTED FOR SECURE FIT  AND EXCELLENT VALUE.
TREATED WITH AN ANTIBACTERIAL AND ANTI-FUNGAL AGENT TO PREVENT THE GROWTH OF GERMS.
THE BEDDING PROTECTION COVER  IS NOT ONLY FLAME RETARDANT, BUT EASY TO CARE FOR AS YOU SIMPLY WASH OR WIPE DOWN WITH DISINFECTANT SOLUTION.
IDEAL FOR NURSING HOMES, CARE HOMES, PEOPLE WITH INCONTINENCE OR TODDLER TOILET TRAINING IN CASE OF ACCIDENTS  AND TEEN INCONTINENCE.
MACHINE WASHABLE AT 40C
SIZE : 90 X 190 X 20CM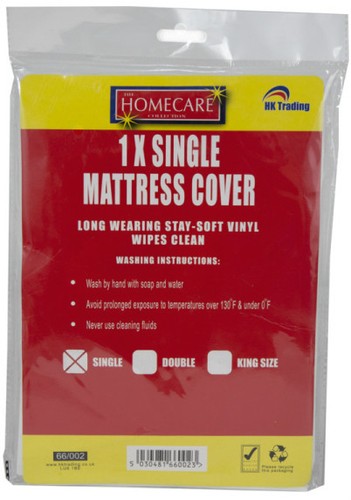 5 in stock
Description
SINGLE BED MATTRESS PROTECTOR SOFT VINYL WIPE CLEAN SHEET COVER PROTECTOR HLU